COVID-19 Updates
Due to the COVID-19 pandemic, this summer's overnight camps have been canceled. However, we're opening day camp instead! Learn about day camp here.
We are implementing a variety of extra disinfecting and sanitary procedures to promote a healthy environment at camp. Among a wide variety of new procedures, some include contactless drop-off and pickup of campers, daily temperature checks for staff and campers, additional cleaning of restrooms and high-touch areas, and separating campers into smaller groups. We are following all day camp requirements from our state and local governments, and will continue to monitor updates from them. (For more details, see our "COVID-19 Mitigation Procedures" document here.)
Campers and staff are NOT permitted at camp if any of the following apply:
- They have had symptoms of any sickness in the past 72 hours.
- They have had a temperature greater than 100.4 degrees Fahrenheit, any respiratory symptoms (cough, shortness of breath, etc), chills, muscle pain, sore throat, or new loss of taste or smell in the past 14 days.
- They have had known contact with a person who has COVID-19 or any of the above symptoms in the past 14 days.
- They have tested positive for COVID-19 in the past 14 days.
You will automatically receive a full refund to your initial method of payment; no need to fill out any forms. (If you would rather make part of your camp fees a tax-deductible donation, just email us to make the change.)
If you already registered for a 2020 summer camp, we will email you when new programs are available. Otherwise,
just send us a message
and we'll be sure to let you know.
Packing & Dress Code
Here's your packing list!
Bible, notebook, pen/pencil, water bottle, camera (phones not permitted), flashlight, bedding/sleeping bag, pillow, toiletries, towels, washcloths, swimsuit, jacket or hoodie, casual/sports clothes for activities, clothes for evening services (see Girls' & Guys' Dress), closed-toe shoes, sandals/flip-flops if desired, spending money (for gift shop and snack shop)
The following are not allowed at camp: alcoholic beverages, tobacco, drugs, weapons, ammunition, fireworks, magazines, electronic devices (cell phones, mp3 players, etc.), gum, drinks, snacks
Women's/Girls' Dress: For evening services, casual dresses or skirts (with slits no higher than the knee) or loose-fitting pants are required. At other times, loose-fitting fashions that reach at least halfway to the knee are appropriate. Low-cut tops (front or back) are not permitted. Swimsuits should be one-piece.
Men's/Boys' Dress: For evening services, collared shirts and either nice jeans or khakis are required. T-shirts and knee-length shorts are appropriate at other times.
Spending money is not required. However, campers can find water bottles, T-shirts, journals, and much more at our gift shop. They will also love buying freshly made milkshakes and other snacks at Cornelius Cafe! We recommend sending $50 for a week of camp. When you check in, you can leave money for your camper to spend throughout the week. We'll keep it safe in our store and return any extra at the end of the week.
Food, Lodging, & Activities
Our girls' lodge provides a friendly, comfortable place to stay. Each large room houses up to eight campers, plus a counselor. A mattress, shelving, towel bars and coat hanger hooks are located at each bed. The lodge is air conditioned, keeping the temperature nice and cool even when it's hot outside. A central restroom is easily accessible via a hallway.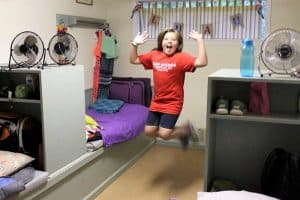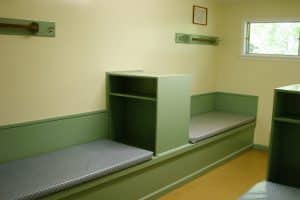 Each connected pair of boys' lodge rooms provides beds for up to 9 campers, along with their counselor. Each room has a private bathroom, along with shelves, a towel bar, and coat hanger hooks for each camper. Each room is air-conditioned, keeping the temperature nice and cool even when it's hot outside.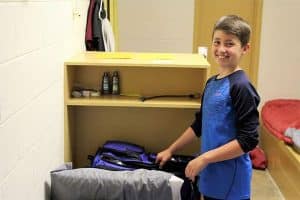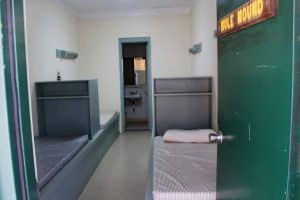 Check-in & Check-out
For all Junior and Teen camps, check-in is on Sunday at 4pm.
When you arrive, a staff member will direct you to Cornelius Cafe to check in, pay any remaining fees, and set up your child's store account. While here, you can also drop off medications with a staff member from the health center. Next, you'll meet your camper's cabin leader, and can help your camper settle into their cabin.
Along the way, we'll have staff available to answer any questions. You can also drop off any food supplements with the kitchen manager during check-in.
(Dinner will be provided for campers later on Sunday evening.)
For all Junior and Teen camps, check-out is on Friday at 5pm.
When you arrive, a staff member will greet you and verify your ID against our list of approved drivers. You can then drive to the main parking lot where you will meet your camper, pick up luggage, and finish saying those last goodbyes.
Safety & Communication
Be sure to follow Camp Sunrise on Facebook so you can see the pictures we post throughout the week. We'll do our best to post photos every other day.
While campers are not allowed to have personal phones with them, family and friends are welcome to write to campers. Please address mail to 1427 Slate Mine Road SE, Fairmount, GA 30139. Be sure to include the camper's name on the envelope and mail it early in the week so it has time to arrive at camp.
Parents are welcome to call camp at 706-337-3394 in case of a family emergency, and we can put their child on the phone to talk with them. Campers are also welcome to call home on a camp phone in case of emergency.
We work hard to ensure your camper's health and safety throughout their stay at camp. Everything from swim tests to staff training to reminders to stay hydrated are all involved in keeping your child safe. However, even in the rare event of an injury or illness, our staff are prepared to take good care of your child.
First aid: A staff member is on duty at the Health Center for each week of camp. They are prepared to deal with anything from medication and minor scrapes to a medical emergency. You will receive a call about any significant injury or illness.
Insurance: In case of accident or illness, your family insurance will be relied on to cover necessary expenses.
Registration & Fees
You have a couple of options for paying any remaining camp fees:
You can pay via check or cash when you arrive at camp for check-in.
You can pay via credit card online, via an email we'll send you a few weeks before camp begins.
Switching weeks - After you've registered, you may switch weeks of camp within the same summer at no charge, for any reason, as long as there is space available.
Cancellation Policy - If you need to cancel due to a personal or family emergency, we will refund all camp fees other than your $50 deposit. Unfortunately, we are unable to offer refunds for other reasons.
Christian Conduct
Camp Sunrise maintains high standards of Christian conduct. Uncooperative or noncompliant campers are subject to dismissal.